Welcome to the Black Brant Group
The 2020 24TH Annual Black Brant BBQ Fundraiser has been postponed until 2023.
The Black Brant Group is committed to protecting the well being of our volunteers, members and event attendees. To combat the spread of COVID-19 and other viruses, we are following federal, state and local issued guidelines, resulting in the postponement of 2020 BBQ Fundraiser.
Please call (805) 441-6461 for more information.
Pilot Restoration Project for Eelgrass Recovery in Morro Bay
In the shallows of Morro Bay grow meadows of eelgrass. Theses eelgrass meadows are important to the estuary's health and to the creatures that live in our bay, especially Black Brant, a migratory goose that grazes on eelgrass while overwintering in Morro Bay. Eelgrass acreage has declined dramatically over the last 5 years, drawing attention from numerous state and local agencies and conservation groups. Now a diverse group has joined forces to partner on a restoration effort.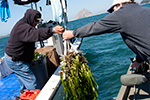 Morro Bay supports the third largest eelgrass meadows in southern California. Since 2003, the Estuary Program has tracked the extent of eelgrass here using aerial imagery. The Estuary Program has been working with researchers across the west coast to understand the context and potential causes of recent declines. "We have not been able to identify a single apparent cause for the declines we're seeing in Morro Bay. More likely, a long streak of diverse impacts has led to the loss of eelgrass in the Southern areas of Morro Bay," said Annie Gillespie, Monitoring Projects Manager for the Estuary Program.
During the week of September 17th, the Army Corps of Engineers (ACOE) will be supporting supplemental eelgrass replanting in association with their 2010 dredging of the navigation channels in Morro Bay. The ACOE contracted with eelgrass experts Merkel & Associates, Inc., to design and monitor this supplemental replanting effort aimed at kick-starting recovery of eelgrass in the central and southern portions of Morro Bay.